1. Japan's ICT strategy for its current super-aging society
In 2007 Japan became the world's first super-aging society. Climate change and super-aging societies are regarded as two major global issues. Expectations are high that the use of ICT will provide solutions to aging society issues, but is the delay in the government digitalization efforts in Japan has been pointed out amid the spread of COVID-19 infections.
With societies as a whole compelled to make a shift to new lifestyles due to COVID-19, this event has led to accelerating "digital transformation" ("DX"). Especially concerning is the difficulty of maintaining current public services in the future in localities that are rapidly aging. To encourage digitalization in administrative sectors, the Japanese government is seeking under in its "Basic Policy 2020", which sets out policies for economic and fiscal management, to intensively invest in and implement digitalization while looking ahead "beyond 5G".
The Waseda University's Institute of d-Government has over the past 15 years conducted annual surveys of the progress made toward d-government by the world's leading countries in ICT, and published reports of the survey results. This paper will present data on the degree of progress made in Japan toward digital government, the issues exposed by COVID-19, and offer some recommendations pertaining to the roles and international contributions expected of Japan's super-aging society in future.
2. Digital-government rankings of key countries worldwide
The World Digital Government Ranking survey, conducted and analyzed yearly with the cooperation of survey teams from 11 major universities worldwide under the auspices of the International Academy of CIO, also enlists the assistance of international organizations: the OECD, APEC, the UN and the EU. This survey has grown in international stature every year for its detailed evaluations of current conditions and issues in the world's d-government sector. Ten sector-specific indicators - network infrastructure preparedness; Management Optimization; progress in online services; National Portal; government CIOs; d-government strategy/promotion e-participation; open government; cyber security; and use of emerging ICT - and 35 sub-indicators are utilized in formulating the rankings. The results of the latest survey are shown below.
Table 1: 15th Waseda World Digital Government Rankings 2019
Overall Rankings (1st-15th Place)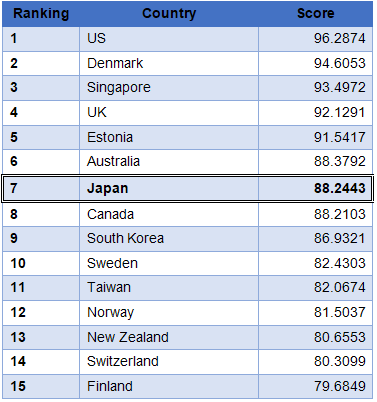 Source: Institute of e-Government, Waseda University.
Japan's score reflects the ongoing enhancements it has made to "performance of government CIOs", "Digital-government promotion" and other aspects of communications infrastructure since last year. The rapid nationwide deployment of 5G being pursued by the Japanese government and the formulation/execution of its "Beyond 5G Promotion Strategy" will lay the foundations for future digital infrastructure. Also highly regarded was the Ministry of Economy, Trade and Industry's move in July 2019 to set up a Digital Transformation (DX) Office charged with systematically developing policy proposals to improve the convenience of government services and to upgrade data and services. At the same time, Japan's score for "citizen e-participation" was low in comparison with other countries. Particularly urgent issues in this regard are making educational opportunities to improve ICT literacy among the elderly and others more widely available, upgrading public key infrastructure, moving online those administrative procedures incurring greater costs to accommodate both paper and electronic applications, and going increasingly paperless.
For reference, Japan placed 14th in the d-government world rankings announced by the United Nations Department of Economic and Social Affairs (UNDESA) in July of this year. In these UN rankings that evaluate d-government development indicators (EGDI) pertaining to communications infrastructure, human capital, and online services, Japan scored well on communications infrastructure and human capital but poorly on online services, with analysis showing that rapid digitalization in other countries has had an impact on Japan's relative standing.
Digital government endeavors worldwide are producing widening digital disparities, central-local government disparities and income disparities. While there has been conspicuous use of AI and blockchain technology and initiatives toward innovation in emerging countries, there is a notable digital divide among countries between the "haves" and the "have-nots". Disparities have also grown in Japan, especially in cutting-edge technology use, digital human resources and budgets. Local governments in approximately 70% of cities with populations of 200,000 or more have yet to move their information systems (backbone operations) into the cloud. On the other hand, some of the "haves" among local governments are promoting the introduction of smart technologies and have successfully developed smart local governments offering greater added value. Coordination between social media and digital government services is being pursued not only for its utility during disasters but also for the provision of user-oriented services primarily for residents. A growing number of ASEAN countries are also pursuing digital government integrated with smart cities, and therefore it is imperative from a security perspective that Japan, too, develop global standards for operation and deployment.
Evaluating digital government efforts by country reveals several successful examples of digital inclusion. All citizens in Denmark, for instance, have a CPR-Number (the equivalent of Japan's My Number), a NemID (needed to log in to the public-sector online portal), electronic post office boxes and payment accounts. The country's Agency for Digitisation serves as a control tower for digital government, enabling central, regional and local governments to come together as one to create governance that promotes digitalization. Even as the legal structures for almost entirely paperless digital government are being established, several options are being provided to elderly persons who do not use digital technology as well as to other digitally vulnerable segments of society, and autonomous lifestyles for the elderly are being promoted. The UK has created a ministerial post - Minister for Loneliness - to aid those living in an aged society, while Estonia, similar to Denmark, provides administrative services to the elderly on an 80% digital, 20% analog basis. Aging and digital government policies are indeed being integrated.
3. COVID-19 and the worldwide surge in digital government
A number of countries have imposed lockdowns in response to the COVID-19 pandemic, and Japan declared a state of emergency. It would be no exaggeration to say that moving administrative procedures online has become a necessity and has contributed greatly to the active adoption of digital technologies. According to a May 2020 international survey on DX for COVID-191, a certain degree of success has been achieved in Indonesia in encouraging teleworking, online education and online meetings, while Singapore has seen enhancements and successes in delivery businesses, remote medical care via voice/video chat, 24-hour access to medical data and e-shops for purchasing pharmaceuticals. While striving to protect personal information, the Singaporean government has released a "Trace Together" app to provide notifications to persons who may have become high-risk contacts.
Russia and Singapore have undertaken careful contact tracing management, and China has used applications to release information on infection risk based on movement records as well as employed chatbots to assess infection risks. In the US, the COVID-19 pandemic and the intense and immediate impact of responses thereto have brought about a completely new emphasis on, and prioritization of, government services, and boosting organizational agility has become the most important competence. Many countries with COVID-19 outbreaks have been disseminating relevant information through digital government and developing/popularizing ICT applications.
In addition to the aforementioned surveys, media outlets and survey organizations in various countries have reported on digital government successes, including applications for and payments of benefits utilizing the Internet and online applications.
Table 2: National COVID19 and Digital Government Policies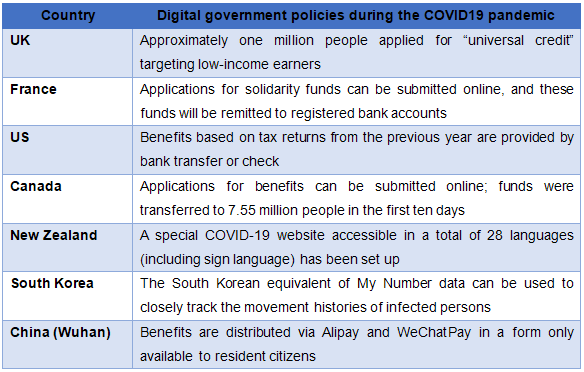 Source: prepared by author.
4. Digital government in Japan during the COVID19 pandemic
Given the need for social distancing, teleworking and online classes have become popular means of maintaining socioeconomic activities. At the same time, the importance of moving away from face-to-face meetings, written documents and seals and of standardizing operational systems and processes has been reaffirmed.
The Cabinet Secretariat's "Guidelines for Formulating a New IT Strategy (April 2020)" introduces initiatives to assemble government agency tech teams and public-private tech teams, to give open access to the numbers of people infected and the numbers of tests conducted, to provide public notices about medical care provision on the government's CIO website, and to utilize data ascertained about clusters.
Only about 20% of persons aged 65 or older had been issued My Number cards as of July 2020, after the onset of the COVID-19 pandemic. To maintain efficient government services even as the labor force declines due to significant aging, health insurance cards need to be linked up with driver's licenses and bank accounts, with due consideration given to social costs, convenience and service innovations. The Ministry of Internal Affairs and Communications' "List of Statistical Tables - 2019 Communications Usage Trend Survey Report on Households" reports a high 72.4% Internet usage rate for persons 65 years of age or older, but it is nonetheless necessary to make improving the usage rate among seniors negatively disposed toward ICT a priority issue.
Japan has for more than two decades been taking measures to deal with a super-aging society by utilizing ICT. One of these is the "Program for Building e-Government (2003)", which has emphasized accessibility to electronic government-related documentation for the elderly and the disabled and has focused on multi-access environment upgrades and convenience as well as on universal design. The elderly and the disabled are the least likely to enjoy the benefits of a digital society. Henceforth, it will be essential to adhere to the three principles of (1) usability, (2) accessibility, and (3) affordability, while (4) creating educational opportunities to improve ICT literacy and finding the optimal solutions to administrative costs, also reflecting the risk management measures of infectious diseases.
5. Holding a "World Summit on Aging Societies with COVID-19"
Starting with the March 11, 2011 Great East Japan Earthquake, Japan has suffered numerous natural disasters in just the past ten years, and the country in 2020 now finds itself co-existing with the ominous threat of COVID-19. Utilizing digital technologies on behalf of the elderly, the segment most vulnerable to disasters, is a matter of the utmost interest for countries around the world. To build a diverse society that leaves no one behind, the author would like to offer a few recommendations regarding international contributions by Japan from the perspective of digital government.
1. As the key point for a growth strategy based on digital inclusion of the elderly (silver citizens), efforts should be undertaken through PPP to extend digital government initiatives globally in areas in which Japan is particularly strong, such as disaster prevention, water supply, public order and security. Japan is the preeminent country worldwide in disaster prevention, its ODA makes it one of the world's largest donor countries for disaster management, and it is an active infrastructure exporter, with successes attributable to public-private teamwork. Japan should contribute to the international community by accelerating its export strategy with added value to its key industries. .
2. Japan should strive for rapid progress in promoting digital government and fostering CIOs and ICT personnel who will serve as control towers, and should undertake the digitalization of wide-area collaboration/sharing and standardization from the perspective of innovation.
3. Japan should employ AI, 5G, and 8K to more closely link socioeconomic infrastructure with digital government, and should establish "new digital lifestyles" with the aim of developing a global standard model that incorporates online education, teleworking, remote medical care, automated driving, etc.
4. In keeping with the UN's SDGs, Japan should prioritize the creation of societies that leave no one behind and of digital government promotion/evaluation models oriented toward users in super-aging societies. Japan should use online education and other means to ensure broader access to educational opportunities and healthy lifestyles so that everyone can utilize digital government.
5. As the world's only super-aging society, Japan should ensure the success of its COVID-19 countermeasures to boost Japan's global presence. This author proposes that Japan seize the initiative in organizing a "World Summit on Aging Societies with COVID-19" jointly with the UN, the OECD and other international institutions aimed at creating a new international socioeconomic order.
---
1
An international survey - "Digital Transformation by CIOs to Combat COVID-19" - conducted in April and May by the economies participating in the APEC Smart Silver Innovation Project, for which the author serves as chair, with cooperation from the International Academy of CIO. The survey items included national policies to combat COVID-19 and the speed with which they are being implemented, the roles of CIOs, the creation of venture companies, the utilization of innovation/AI, DX, and smart government.